Coronavirus: Abbott's 15-minute COVID-19 Self-Test for Only $5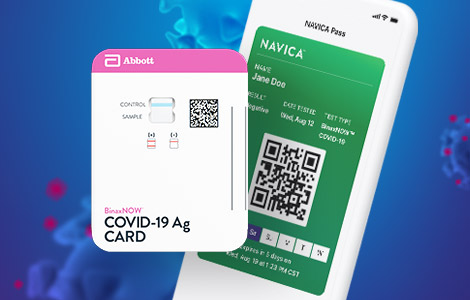 On August 26, the US Food and Drug Administration (FDA) issued an emergency use authorization to Abbott's newly developed COVID-19 antigen test product "BinaxNOW™ COVID-19 Ag Card (BinaxNOW or COVID-19 Silver Card)" (EUA). It is highly portable (about the size of a credit card) and relatively inexpensive, and can quickly and reliably detect active coronavirus infections.
It uses the proven Abbott lateral flow technology, which qualifies the nucleocapsid protein antigen in SARS-CoV-2, which comes from nasal swabs of patients suspected of COVID-19. As a near-human rapid antigen test, the COVID-19 silver card is designed for near-patients. It does not require any equipment, is easy to operate, and can produce results within 15 minutes. The sample should be tested immediately after collection, and the virus must not be diluted or transported with media.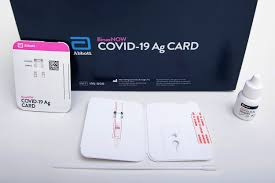 Operating
The medical staff opens the card and puts it on the platform
Add extraction reagents to the test card
Remove the nasal swab from the patient
A technician will insert a cotton swab into the test card, fold the cover, and read the result after 15 minutes
The program receives a negative result and sends it to the NAVICA mobile APP to generate a temporarily encrypted digital health code
The program receives a positive result and sends it to the NAVICA mobile APP, generates a text message to inform the patient that they need to be isolated, and contact the doctor
Digital Health Code
In a clinical study conducted by Abbott and several top research universities in the United States, the sensitivity of COVID-19 silver card to suspected COVID-19 patients was 97.1% (positive coincidence rate) within the first 7 days of the onset of symptoms. It was 98.5% (negative coincidence rate). Abbott will also launch a free mobile app called NAVICA™ for iPhone and Android devices to provide a temporary digital health pass for people who test negative. If the test is positive, people will receive a message telling them to be notified Quarantine department and contact the doctor. Each test will update the pass and test date. The promotion of this tool will facilitate the risk management of infectious disease detection and ensure that the disease will not be spread to anyone. The user interface of the application is supported by a cloud-based, scalable and secure back-end digital infrastructure. The application is not used for contact tracking. It only collects a person's first and last name, email address, phone number, zip code, Date of birth and test results.
Help Americans return to normal life
With this portable rapid antigen test card, the results can be obtained immediately with minimal training instructions, allowing contagious people to leave the street and enter the quarantine area, so that they will not spread the virus. Abbott will release tens of millions of tests in September, reaching a monthly output of 50 million in early October. Since April this year, Abbott has invested hundreds of millions of dollars in large-scale production of BinaxNOW in two new plants in the United States. BinaxNOW can be used as the first line of defense to identify people who have been infected.
"We have specially designed the mobile application to provide a comprehensive testing solution to help Americans have more confidence in their health and life," said Abbott President and CEO Robert B. Ford. "BinaxNOW and NAVICA have provided us with an affordable, easy-to-use, and scalable test, as well as a complementary digital health tool to help us return to normal lives under the epidemic."
Remarks: The BinaxNOW COVID-19 Silver Card has not been approved or approved by the FDA, but it has been authorized by the U.S. Food and Drug Administration (FDA) and can be used by authorized laboratories and patient care facilities. The test is only authorized to detect SARS-CoV-2 protein, not applicable to any other viruses or pathogens, and only in the process of declaring that it is necessary for emergency use (EUA) in vitro diagnostic test to detect and/or diagnose COVID-19 Authorized in.