Dr. Fauci Confirmed When COVID-19 Vaccine Would be Generally Vaccinated in US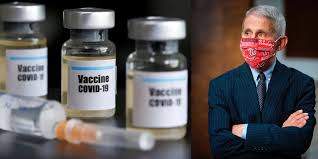 CNBC reported on September 23, 2020 Eastern Time that White House Coronavirus Advisor Dr. Anthony Fauci told Congress on Wednesday (September 23, 2020) that "rigorous clinical testing" is required for the development of safe and effective vaccines. Therefore, it may take some time for the FDA-approved new Coronavirus vaccine to be on the market. However, he expressed "increasing optimism" that scientists will develop one or more safe and effective vaccines by the end of the year or early 2021, and that the United States will have enough vaccines by April next year to give every American a chance.
President Trump has always insisted that the United States can obtain a safe and effective vaccine by the end of October, and that there will be enough vaccine doses to vaccinate every American by April. The president's remarks raised concerns that politics, not science, would affect the vaccine approval process.
On Wednesday, Dr. Fauci expressed this similar statement, explaining when the vaccine doses can be provided to all Americans, and said that the vaccine doses will be rolled out in the next few months, and the United States should provide 700 million doses of vaccine by April. It seems that the president's insistence is backed by experts.
CNBC news also reported that Johnson & Johnson also stated on Wednesday that it has begun phase three trials of its new coronavirus vaccine candidate. Johnson & Johnson's vaccine is the fourth candidate for late-stage trials supported by the US "Warp Speed" project. The other three are Moderna, Pfizer+BioTech and AstraZeneca, which can provide hundreds of millions of vaccines to the United States in total.