Coronavirus Symptoms (COVID-19)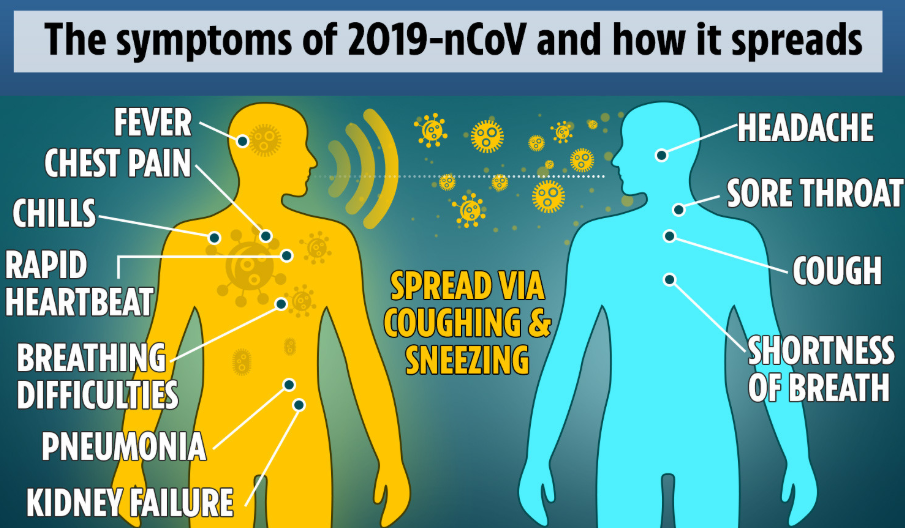 Reported illnesses have ranged from mild symptoms to severe illness and death for confirmed coronavirus disease 2019 (COVID-19) cases.
The following symptoms may appear 2-14 days after exposure.*
Fever
Cough
Shortness of breath
Symptoms of COVID-19 are non-specific and those infected may either be asymptomatic or develop flu-like symptoms such as fever, cough, fatigue, shortness of breath, or muscle pain. The typical signs and symptoms and their prevalence are shown in the corresponding table. The Centers for Disease Control and Prevention (CDC) lists emergency symptoms including difficulty breathing, persistent chest pain or pressure, sudden confusion, difficulty waking, and bluish face or lips; immediate medical attention is advised if these symptoms are present.
Statistics from those coronavirus patients show the % of the symptoms as below table:
Fever 87.9%
Dry cough 67.7%
Fatigue 38.1%
Sputum production 33.4%
Anosmia (loss of smell) 30-66%
Shortness of breath 18.6%
Muscle pain or joint pain 14.8%
Sore throat 13.9%
Headache 13.6%
Chills 11.4%
Nausea or vomiting 5.0%
Nasal congestion 4.8%
Diarrhoea 3.7%
Haemoptysis 0.9%
Conjunctival congestion 0.8%
So, compare the tables, and decide if you need to call the emergency calls of your country. Meanwhile, you can try online checker to see % possibility of COVID-19.
Please note, the usual incubation period (the time between infection and symptom onset) ranges from one to 14 days; it is most commonly five days. In one case, it may have had an incubation period of 27 days.